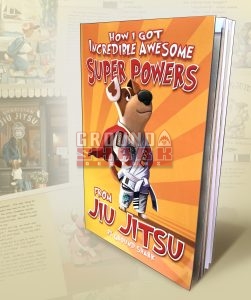 Contorted and searching for an exit, I can't recall the position John forced me to hold before he first asked about the book.  The initial request seems blurred in my memory, so I'm leaning towards a choke. The inquiry, however, remained casual and direct, "I have an idea for a jiu-jitsu kids book.  Will you write it?" When Ground Shark, an award-winning artist and folk icon of the combat sports art world, asks you to do something, I've found its best to say yes. We began with John's title, "How I Got Incredible Awesome Superpowers from Jiu-Jitsu," and established a rule not to include any cliched bully themes.  John asked me to give him a story, and he would create the art. I sent the first couple pages for John's approval in early March. What I got in return was an artistic rendition of my words that nearly brought me to tears.
John's art remains the star of the book.  Each full page rendition required 10 hours of production time.  He carefully places every brushstroke to evoke an elaborate portrait of each character.  Look carefully and you'll notice subtle differences in Aiden as the book progresses. By the end of the story, his newfound confidence can be seen through his posture and movement on the page.  References to Jiu Jitsu's history are depicted throughout the book, honoring those who have come before us to popularize our iconic sport.
This story became a true collaboration of art and word.  Inspired by John's incredible characters, we desired to deliver a message of growth in a positive setting devoid of the cliched nuances you'll find in most martial arts stories.  You won't find any angry bullies to battle or super strength bestowed upon our characters. They won't find a magic amulet that gives them the ability to fly or a mythical creature they hide from their parents.  We chose to highlight individual triumphs that can be universally realized in our readers. Our true superpowers depicted in our story celebrate personal growth and priase the journey required to achieve one's goals.
Our combined Instagram origin series provides more in-depth coverage of each character's triumphant accomplishment.  Through this, we hope to inspire or younger audience to strive towards greatness. Our main characters provide diverse backgrounds that should appeal to most young readers.  We hope everyone will identify with one or more characters and follow that character's path closely. We hope to help some of our fans cope with their own struggles and help them towards a path to overcome their obstacles.
This is our passion project, inspired by our children, honoring our sport and providing these two old jiu-jiteiros a means to influence and entertain the next generation.   Keep checking our blog for updates on our next book. And, as always, keep grinding.